E-Mail-Management-Software und gemeinsamer Posteingang für Teams
Über Front
Front ist der gemeinsame Posteingang für Teams, der die gesamte Unternehmenskommunikation in einer einzigen kollaborativen Plattform vereint. Teams in den Bereichen Kundendienst, Vertrieb, Betrieb, IT und Marketing können [email protected], [email protected] und andere Gruppen-E-Mail-Adressen, Facebook, Twitter, Chat und SMS an einem zentralen Ort verwalten, ohne zwischen mehreren Tools wechseln zu müssen.
Konzipiert für die Team-Zusammenarbeit: E-Mails und Nachrichten im gemeinsamen Posteingang können Teamkollegen zugewiesen werden, um zu verdeutlichen, wer für das Beantworten verantwortlich ist. Die Kollisionserkennung verhindert mehrere Antworten auf dieselbe Nachricht. Du kannst Teammitglieder direkt erwähnen, um Nachrichten und Entwürfe zu teilen und zu besprechen, bevor Du eine Antwort an einen Kunden sendest. Mit E-Mail-Vorlagen kann man schnell auf häufig gestellte Fragen antworten.
Verbessert die Team-Produktivität: Front funktioniert wie ein E-Mail-Client, ist jedoch leistungsstärker als Google Mail oder Outlook. Mit Funktionen wie internen Kommentaren, Follow-up-Erinnerungen, Lesebestätigungen, Seriendruck, E-Mail-Sequenzen und vordefinierten Antworten kann man 2-3x schneller auf Kunden reagieren. Mobile Apps für iOS und Android sind verfügbar, um unterwegs zu antworten und zu triagen. Die umfassenden Analysen von Front zeigen Deine Antwortzeit, Nachrichtenvolumen und vieles mehr, um Deine Produktivität zu messen.
Integriert sich in alle Apps: Front funktioniert mit vielen anderen Software-Anwendungen, die man bereits verwendet - Salesforce, Slack, Trello, GitHub, Intercom, Asana und mehr, so dass man auf diese Informationen zugreifen und diese in Front synchronisieren kann. Mithilfe der API können benutzerdefinierte Integrationen für spezifischen Geschäftsanforderungen entwickelt werden.
Front kostenlos in einer 14-tägigen Testversion testen.
Preisoptionen ab:
$ 19,00/Monat
Kostenlose Version

Gratis Testen

Abonnement
Typische Kunden
Freie Mitarbeiter

Kleine Unternehmen

(2–50)

Mittelgroße Unternehmen

(51–500)

Großunternehmen

(500 und mehr)
Einsatz
Cloudbasiert

On-Premise (vor Ort)
Märkte
Österreich, Australien, Belgien, Brasilien, Kanada , Schweiz, China, Deutschland, Dänemark, Estland, Spanien, Finnland, Frankreich, Vereinigtes Königreich, Griechenland, Irland, Indien, Italien, Japan, Luxemburg, Monaco, Nordmazedonien, Mexiko, Niederlande, Norwegen, Neuseeland, Polen, Portugal, Schweden, Singapur, Vereinigte Staaten und 26 weitere
Preisoptionen ab:
$ 19,00/Monat
Kostenlose Version

Gratis Testen

Abonnement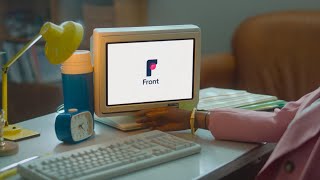 Gesamtzahl der Funktionen von Front: 186
@mentions
API
Abwanderungsraten-Management
Aktivitäts-Dashboard
Aktivitäts-Verfolgung
Alarmfunktion / Benachrichtigungen
Anpassbare Berichte
Anpassbare Felder
Anpassbare Vorlagen
Anrufaufzeichnung
Anrufüberwachung
Archivierung & Aufbewahrung
Audit Trail
Aufgaben-Fortschrittsverfolgung
Aufgabenmanagement
Aufgabenmanagement
Aufgabenplanung
Aufgabenplanung
Auftragsmanagement
Automatische Antworten
Automatisiertes Routing
Automatisierung von Geschäftsprozessen
Batch-Daten Kommunikation
Bearbeiten in Echtzeit
Berichterstattung / Analyse
Berichterstattung und Statistik
Brainstorming
CRM
Call-Center-Management
Chancenmanagement
Chat / Messaging
Chatbot
Compliance Management
Computer Telephony Integration
Corrective and Preventive Action (CAPA)
Dashboard
Daten-Import / -Export
Datenvisualisierung
Dealmanagement
Diskussionen/Foren
Drag-and-Drop
Drittanbieter-Integration
Dynamische Inhalte
E-Mail Erinnerungen
E-Mail Marketing
E-Mail-Management
E-Mail-Tracking
E-Mail-Verteilung
E-Mail-Vorlagen
E-Mail-Überwachung
Echtzeit-Aktualisierungen
Echtzeit-Analytik
Echtzeit-Benachrichtigungen
Echtzeit-Berichterstattung
Echtzeit-Chat
Echtzeit-Chat für Kunden
Echtzeit-Daten
Echtzeitüberwachung
Einmalige Anmeldung
Einstellungen (Personalbeschaffung)
Engagement-Tracking
Ereignisgesteuerte Aktionen
Erinnerungen
Etikettierung
Fall-Management
Feedback-Management
Filesharing
Für iPad-Geräte
Gebietsmanagement
Gemeinsamer Posteingang
Gesundheitswerte
Hilfe Desk-Management
Inbox-Management
Interne Chat-Integration
Kalender-/Erinnerungssystem
Kalender-Synchronisierung
Kalenderverwaltung
Kampagnenanalysen
Kampagnenmanagement
Kollaboration mehrerer Nutzer
Kommentare / Notizen
Kommunikationsmanagement
Konfigurierbarer Workflow
Kontakt-Datenbank
Kontaktmanagement
Konto-Benachrichtigungen
Kontoverwaltung
Kundenbindung
Kundendatenbank
Kundendienst-Analyse
Kundenhistorie
Kundenkommunikation
Kundenmanagement
Kundenmanagement
Kundenreklamations-Tracking
Kundensegmentierung
Lead-Erfassung
Lead-Qualifizierung
Leadmanagement
Leistungskennzahlen
Leistungsmanagement
Lesebestätigungen
Lieferanten-Management
Live-Chat
Mailinglisten-Management
Makros/Antwortvorlagen
Meeting-Management
Mehrere Benutzerkonten
Mitarbeiter-Datenbank
Mitarbeitermanagement
Mitarbeiterverzeichnis
Mobile App
Mobile Benachrichtigungen
Mobiler Zugriff
Multi-Channel-Kommunikation
Multichannel-Datenerfassung
Multichannel-Management
Negatives Feedback Management
Notizen verwalten
Nutzungsverfolgung/-analyse
On-Demand Kommunikation
Personalisierung
Personalmanagement
Planungs-Tools
Priorisierung
Problem-Nachverfolgung
Problemmanagement
Projektmanagement
Projektplanung
Projektvorlagen
Projektzeiterfassung
Prozess-/Workflow-Automatisierung
Qualitätsmanagement
Qualitätssicherung
Reaktions-Management
Regelbasierter Workflow
Remote-Support
Remote-Zugriff/-Kontrolle
Ressourcenmanagement
Rollen-basierte Genehmigung
Routing
SMS-Nachrichtenversand
Sales-Pipeline-Management
Self-Service Portal
Service Level Agreement (SLA) Management
Sichere Datenspeicherung
Social Media-Überwachung
Social-Media-Integration
Spam-Blockierung
Statusverfolgung
Suchen / filtern
Supportticket-Management
Team-Management
Termin-Fristenmanagement
Terminplanung
Terminplanung
Terminverwaltung
Textanalyse
Ticket-Management
Transfer / Weiterleitung
Transkripte / Chatverlauf
Trend-Analysen
Umfragen & Feedback
Unterschriften-Management
Veranstaltungskalender
Verfolgen von Support-Tickets
Verfolgung von Interaktionen
Verhaltens-Tracking
Versand-Management
Versionskontrolle
Video-Chat
Videokonferenzen
Visuelle Analytik
Vorformulierte Antworten
Vorlagen-Management
Warnungen/Eskalation
Warteschlangenmanagement
Wechselseitige Audio & Video
Werkzeuge zur Zusammenarbeit
Whitelist/Blacklist
Wissensmanagement
Workflow-Konfiguration
Workflow-Management
Zeitverfolgung
Zugriffskontrollen / Berechtigungen
Überwachung
Crisp
Nr. 0 Alternative zu Front
Crisp ist eine All-in-one Multi-Channel-Kundenplattform für die Interaktion mit Kunden über Live-Chat, E-Mail,...
MessageBird
Nr. 1 Alternative zu Front
MessageBird bewältigt Kommunikationsherausforderungen mithilfe von SMS-, Sprach- und Unterhaltungs-APIs.
Intercom
Nr. 2 Alternative zu Front
Intercom ist die erste Conversational-Relationship-Plattform, die es Unternehmen ermöglicht, über eine einheitliche...
Olark
Nr. 3 Alternative zu Front
Deine Kunden kennen den Olark Live-Chat. Sie suchen nach der kleinen Registerkarte in der unteren Ecke deiner Website...
Preis-Leistungs-Verhältnis
---
Hast du Front bereits?
Andere Softwarekäufer brauchen deine Hilfe! Produktbewertungen helfen uns allen, die richtigen Entscheidungen zu treffen.
Zeigt 5 von 246 Bewertungen
Branche: Buchhaltung
Unternehmensgröße: 51-200 Mitarbeiter

Täglich

für

1-5 Monate

genutzt
Quelle der Bewertung
Gesamtbewertung
Preis-Leistungs-Verhältnis

Bedienkomfort

Kundenbetreuung

Weiterempfehlungsquote

10.0

/10
The Best Team Collaboration Tool!
Bewertet am 19.12.2019
My team is able to be more efficient and we all can see past comments and such so it makes our team...
My team is able to be more efficient and we all can see past comments and such so it makes our team more cohesive. Many times the client doesn't even know which team member they're speaking to because we are so united...because of Front. We are able to create Asana tasks directly from our Front inbox which saves some time. I am able to stay more organized and keep the cleanest inbox that I've ever had in my entire 20+ years of work experience. I can't believe that I could even live without Front before. I don't see how I can ever go back to the old way of just sending e-mails and losing the collaboration function that Front provides. One problem that many people have is tagging an e-mail as backup for a task or the like. With the permalink feature, we're now able to attach an e-mail string to any Asana task so that the we can quickly refer back to the e-mail without screenshots and the like. It's so much easier now to keep all of our information together without an overload of e-mail messages.
Vorteile
I love being able to comment to teammates and to create a client-specific e-mail for our clients to respond to in order for collaboration to be smoother and for communication to be shared. I like being able to share drafts with my team so that they can review and even send if needed. If my direct reports want an e-mail to come from me but want to be sure I say exactly what they want to be heard then they just type up the e-mail, share the draft and @mention me, I edit it, my signature automatically attaches and then I send the e-mail as if I had written it. It's actually quite brilliant instead of sending an e-mail to one person to review, you can share it and everyone can see the edits. I like how you can immediately see at the top the tags of whose folder you're in so that you don't have to search through the e-mail to realize where you may be or which client you're working with. I also like the feature that lets you know if one of your colleagues archive the message that you're currently looking at. It helps to know this so that you know whether or not you need to reply to the message or assume that they're still going to respond. I also love how we can snooze an e-mail until later so they don't junk up the inbox. I am usually terrible at just leaving my inbox full with unnecessary messages that I forget to get back to until it's too late. With Snooze, I now say goodbye for now and get it out of my mind completely and then am reminded of it at the appointed time.
Nachteile
I haven't really found anything that I don't like yet. One thing that may improve but is not a big deal is that tagging folders at the top right does not always work but if I drag the message to that folder then it does work. It would be nice if you could add an Asana task from Front without adding it to a project. For example, if it's a private task that I don't want shared with anyone else then I should either be able to make it private or not add it to a shared project. I was going to say that I would love to make reactions to the comments placed in Front but it appears that that option was added 18 hours ago so someone else beat me to the punch. It might be nice to have the option to add a follower to an e-mail thread but make it so that they cannot see any previous comments to when they were added. This would just make it so that you can share current information going forward but not include any past information that you may not have wanted to get into their hands. I'm sure Hillary would have loved that feature. One thing that I would love to add is an @mention to say something like @all or @everyone that tags everyone that is assigned or a follower to a particular e-mail comment thread.
Branche: Informationstechnologie & -dienste
Unternehmensgröße: 51-200 Mitarbeiter

Täglich

für

Mehr als 2 Jahre

genutzt
Quelle der Bewertung
Gesamtbewertung
Preis-Leistungs-Verhältnis

Bedienkomfort

Kundenbetreuung

Weiterempfehlungsquote

9.0

/10
Front is the best Shared Inbox for collaborative customer support
Bewertet am 18.12.2019
Front truly is a dynamic tool for teams looking to improve their internal workflows for external-fac...
Front truly is a dynamic tool for teams looking to improve their internal workflows for external-facing communications. There is some fantastic automation that is built into the platform that has helped streamline and build in consistency for external client-facing communication.
Vorteile
My favorite functionality would be the collaborative chat tools amongst team members for email threads. Its an amazing tool.
Nachteile
The thing I struggled the most to adapt to was the Tags functionality. It is not something we use daily but had a slight learning curve for me and my team.
Täglich

für

1-5 Monate

genutzt
Quelle der Bewertung
Gesamtbewertung
Preis-Leistungs-Verhältnis

Bedienkomfort

Kundenbetreuung
Great for collab, not so great for the budget
Bewertet am 30.3.2018
Vorteile
We love using this for syncing with Pipedrive - the implementation was easy. The powerful autoresponders are helpful as well. On any given day, we can have a different auto responder, which is great because we're always in a dedicated project on Wednesdays and out of office on Fridays. It's also a bonus that send later is active right out of the box - so when I'm working on emails after my kids are in bed they show up to my clients as sent at 7am the next morning. Set up wasn't too bad since I had already used Support Bee previously. The mobile app is solid as well, though my Android phone tells me it takes a lot of battery power. I wish it was listed as a native email provider on Andoid phones - so right now if I click on a email link in my Pipedrive App, I can't have it open in Front. Front is better than Pipedrive for sending emails since I can drop screenshots inline in emails in Front - something we do on a daily basis. I recommended this to a client who initially liked the idea that it connected with Shopify, showing order information beside each email (see cons for rest of the story). It's normal email stuff works just fine as well - removing formatting, adding bullets, bold, etc all work as expected. As an admin, I like having the ability to make sure my team is keeping on top of shared emails. Additionally, when a teammate needs some help on a message, they can share it with me to help advise them.
Nachteile
Buyer beware on the TOS regarding refunds. I set this up for a client and got them paid up as an annual client with several users. However, it wasn't a good fit for them. I was not pleased to find out Front does not offer pro-rated refunds, which is costing my client a lot of money and jeopardizing my relationship with them. Customer services was unsympathetic. For this reason I can't recommend Front anymore. If a user signs up with an annual plan, they will at some point be losing money, not saving it - unless they cancel on the anniversary of when they started. Just because it's in the TOS doesn't mean it's the right thing to do: Front is one of the companies that needs to learn this.
Branche: Finanzdienstleistungen
Unternehmensgröße: 2-10 Mitarbeiter

Täglich

für

Mehr als 2 Jahre

genutzt
Quelle der Bewertung
Gesamtbewertung
Bedienkomfort

Kundenbetreuung

Weiterempfehlungsquote

8.0

/10
Front is a fantastic tool for teams on a budget
Bewertet am 16.11.2022
Vorteile
It allows us to track and manage emails in a team inbox (support team) and stay organized
Nachteile
Although the lower tier pricing is reasonable, in order to get analytics or have several team members on the account, the price jumps astronomically. To the point where that's out of reach for most small businesses. But the reporting would be fantastic to have access to. The biggest con to Front is the limits they set on the "affordable" plan.
Branche: Grafikdesign
Unternehmensgröße: 2-10 Mitarbeiter

Täglich

für

6-12 Monate

genutzt
Quelle der Bewertung
Gesamtbewertung
Preis-Leistungs-Verhältnis

Bedienkomfort

Kundenbetreuung

Weiterempfehlungsquote

7.0

/10
The best email software I've used
Bewertet am 24.4.2020
It's revolutionised the way we run things.
For a company that interacted with 90% of it's...
It's revolutionised the way we run things.
For a company that interacted with 90% of it's customers on Etsy, it was always a bit of a chore when someone wanted to email. Now with front, I would say we're 80% emails and we encourage even our Etsy customers to email us directly.
Vorteile
It's simplifies complex processes, breaks down your work into digestible chunks. It's intuitive, straightforward and has lots of time saving tricks and tips.
Nachteile
There's a couple of features that would be really handy, that I've requested a couple of times .
For example, dragging and dropping a jpeg into an email, adds it as an inline image. I would like a preference to select to have all files - regardless of format, to be added as an attachment.
I'm also unable to change my Download Location in my preferences, it simply doesn't work when I try to change this. Granted, I haven't reported this yet and I'm sure they'd be very helpful in solving this.
Front Häufig gestellte Fragen
Weiter unter folgen häufig gestellte Fragen über Front.
F. Welche Preispläne bietet Front an?
Front bietet folgende Kostenpläne an:
F. Wer sind die typischen Nutzer von Front?
Front hat die folgenden typischen Kunden:
11-50, 51-200, 201-500, 501-1 000, 1 001-5 000
F: Welche Sprachen werden von Front unterstützt?
Front unterstützt die folgenden Sprachen:
Englisch
F. Unterstützt Front mobile Geräte?
Front unterstützt die folgenden Geräte:
Android (mobil), iPhone (mobil), iPad (mobil)
F. Mit welchen anderen Applikationen integriert Front?
Front kann in folgende Anwendungen integriert werden:
Aircall, Asana, AskNicely, CallHippo, Caravel, Census, ChargeDesk, Chatdesk Teams, Chatra, Clearbit, ClickUp, CloudTalk, Delighted, Dialpad, Dialpad Meetings, Doorbell.io, Drift, Dropbox Business, Fivetran, Flow.ai, FormCrafts, Forumbee, FullContact, Gainsight CS, GitHub, Gmail, Google Drive, HelpCenter.io, HelpDocs, Herald, HipChat, HubSpot CRM, HubSpot Marketing Hub, Influx, Instabug, Instagram, Intercom, Jira, JustCall, Make, Meta for Business, Microsoft 365, Miuros, Nicereply, Olark, Outreach, PagerDuty, Parabola, Pipedrive, Retool, Salesforce Sales Cloud, Shipamax, Shopify, Slack, Smooch, Stitch, Stonly, Talkdesk, Toky, Trello, Twilio, Twitter, Upscope, Vyte, WhatsApp, Zapier, Zendesk Sell, Zoho CRM, Zoho CRM Plus, Zonka Feedback, Zoom Meetings, monday.com
F. Welche Varianten der Kundenbetreuung bietet Front an?
Front bietet folgende Optionen für Kundensupport:
E-Mail/Helpdesk, FAQ/Forum, Wissensdatenbank, Chat
Ähnliche Kategorien
Sieh alle für Front gefundenen Softwarekategorien an.