TimeTap Übersicht
Was ist TimeTap?
TimeTap ist eine Online-Terminplanungssoftware für kleine und mittlere Unternehmen sowie für unabhängige Fachleute, die monatlich umfangreiche Angebote und Buchungen anbieten. Die Software ist flexibel und für den Einsatz in fast allen Branchen geeignet. Sie hilft dabei, entgangene Anrufe und Nichterscheinen zu vermeiden, indem Kunden ihre eigenen Termine online buchen und verwalten können.
Terminbasierte Unternehmen können sich für einen kundenzentrierten Ansatz entscheiden, indem sie Terminvereinbarungen über die anpassbaren Kalender und Listen von TimeTap abwickeln, die Nutzern die Navigation und Zeitplanung erleichtern. Sowohl Mitarbeiter als auch Kunden können ihre Planung und Buchung automatisieren. Unternehmen können eine unbegrenzte Anzahl von Terminen pro Monat planen und benutzerdefinierte Kundenfelder erstellen, um die erforderlichen Informationen für die Buchung zu erhalten.
Dank flexibler Kalender können Nutzer ihre Zeitpläne auf eine personalisierte Ansicht anpassen. Listen helfen dabei, Termine als erledigt, storniert oder als nicht erschienen zu kategorisieren. Es werden automatisierte E-Mails zur Terminbestätigung und -erinnerung an Kunden gesendet. Außerdem sind die Versandeinstellungen der E-Mails anpassbar. TimeTap umfasst Wartelistenoptionen, mehrere Personalkalender und Buchungen für persönliche Mitarbeiter, um Kunden zuzuweisen.
Unternehmen können einen benutzerdefinierten Code kopieren und einfügen, um einen Zeitplaner auf ihrer Website oder in einem Social-Media-Profil einzubetten. Mit der mobilen Anwendung von TimeTap können Nutzer Kundentermine planen und die tägliche Verfügbarkeit sowie vieles mehr jederzeit und überall abrufen. TimeTap stellt sicher, dass Kunden für einen Termin qualifiziert sind, indem die Anwendung Überprüfungsfragen stellt und Kundendateien und Dokumente sicher in die Cloud hochlädt.
TimeTap Übersicht
Kosten
Preisoptionen
Preis-Leistungs-Verhältnis
---
TimeTap Funktionen
Märkte
Vereinigte Staaten von Amerika
Unterstützte Sprachen
Englisch
Medien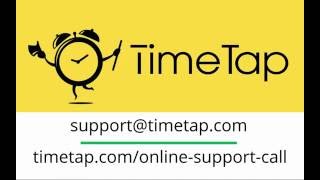 TimeTap Bewertungen
TimeTap Bewertungen
Preis-Leistungs-Verhältnis
4,4
89%
haben diese Anwendung empfohlen
Because of this software, we are able to execute the vision of our social enterprise to fight the opioid crisis without the prohibitively costly overhead associated with having human schedulers & administrators. We would have had to raise a much higher fundraising target in order to be able to run operations if it weren't for the flexibility and ease of use we found in TimeTap.
---
I don't feel having customers schedule a time to have a very personal service like Bike Fitting works with this application. Getting your bike tuned up makes more sense. Imagine trying to schedule a doctor appointment with a sore arm. Without some questions it could be a pulled muscle or bruise... or a heart attack. This assumes the customer knows what service will suit their needs. Often the customer chooses the least expensive option.
---
I am more productive using Time Tap. I set the times I am available; the types of interactions clients may choose from and then give them control of when they set up our sessions.
This frees me to work on other projects, knowing that my clients have a clean, professional looking way to schedule time with me.
---
This has saved so much time automating everything. Once you have figured out how to work everything it is quick to put the information in that you need for each appointment.
---
Vergleiche die Gesamtbewertung mit Alternativen
Mit Alternativen vergleichen
Vergleiche Nutzerempfehlungen mit Alternativen
Mit Alternativen vergleichen
TimeTap Preis
TimeTap Preis
Preis-Leistungs-Verhältnis
Vergleiche das Preis-Leistungs-Verhältnis mit Alternativen
Mit Alternativen vergleichen
TimeTap Funktionen
TimeTap Funktionen
Anpassbare Berichterstellung
Automatische Benachrichtigungen
Benutzerdefinierte Felder
Berichterstattung und Statistik
Kundenspezifisches Branding
Vergleiche Funktionen mit Alternativen
Mit Alternativen vergleichen
Kategorien
TimeTap Häufig gestellte Fragen
TimeTap Häufig gestellte Fragen
Weiter unter folgen häufig gestellte Fragen über TimeTap.
F. Welche Preispläne bietet TimeTap an?
TimeTap bietet folgende Kostenpläne an:
Beginnt ab: 19,95 $/Monat
Preismodell: Kostenlos, Abonnement
Gratis Testen: Verfügbar
F. Was sind die Hauptfunktionen von TimeTap?
Wir haben keine Informationen über die Funktionen von TimeTap
F. Wer sind die typischen Nutzer von TimeTap?
TimeTap hat die folgenden typischen Kunden:
Kleine Unternehmen, Mittlere Unternehmen
F: Welche Sprachen werden von TimeTap unterstützt?
TimeTap unterstützt die folgenden Sprachen:
Englisch
F. Welche Preispläne bietet TimeTap an?
TimeTap hat folgende Preismodelle:
Kostenlos, Abonnement
F. Unterstützt TimeTap mobile Geräte?
TimeTap unterstützt die folgenden Geräte:
Android, iPhone, iPad
F. Mit welchen anderen Applikationen integriert TimeTap?
TimeTap kann in folgende Anwendungen integriert werden:
Google Calendar
F. Welche Varianten der Kundenbetreuung bietet TimeTap an?
TimeTap bietet folgende Optionen für Kundensupport:
Online-Support, Telefon-Support, Häufig gestellte Fragen