VersAccounts Übersicht
Was ist VersAccounts?
Jedes erfolgreiche Unternehmen entwächst irgendwann Excel-Tabellen und alter Software. Wenn du nach neuer Software suchst, die Post-it-Notizen, Tabellenkalkulationen und Add-ons überflüssig macht, solltest du dir Versa Cloud ERP ansehen.
Versa ist eine moderne All-in-one-Software, die für schnell wachsende Fertigungsbetriebe mit viel Bestand, Vertriebs- und E-Commerce-Unternehmen entwickelt wurde, die die nächste Technologiegeneration nutzen möchten. Sie ist leistungsfähiger als alte Software, die von deinen größeren Mitbewerbern verwendet wird, aber einfach und erschwinglich genug für den Einsatz in Unternehmen wie deinem.
Die jährlichen Gebühren beginnen bei 1.800 $ pro Jahr für alle in der Versa-Software enthaltenen Funktionen, einschließlich Finanzwesen, AR/AP, Fertigung, Bestand, Lager, Versand/Empfang, Logistik, Projekte, CRM, B2B/B2C-E-Commerce und mehr.
Die Einrichtung erfolgt als Self-Service mit Anleitungen von Versa und geht schnell und kostengünstig.
VersAccounts Übersicht
Kosten
Beginnt ab
1.800,00 $/Jahr
Preisoptionen
Preis-Leistungs-Verhältnis
---
VersAccounts Funktionen
Märkte
Vereinigte Staaten von Amerika, Kanada
Unterstützte Sprachen
Englisch
Medien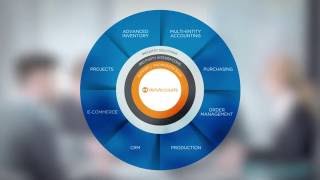 VersAccounts Bewertungen
VersAccounts Bewertungen
Preis-Leistungs-Verhältnis
4,8
100%
haben diese Anwendung empfohlen
Our experience with the entire Versa team has been completely wonderful. They take the time to learn about our needs and the industry we are in. However, their wheels are always turning to see if another client has the same need and how they can help every customer with a new feature within the program. The team is personable and welcoming each meeting we have. I truly can't say "Thank You" enough to this team for everything they help us do. Cheers VersAccounts Team!
---
My business started small. One of the biggest difficulties I've had is understanding how important it is to get the right accounting software in place - first. I thought because I was small volume, I should pick simple, low cost solutions. I started with Quickbooks online, then went to desktop, then went to a full QB enterprise, and then added an inventory/CRM application to QBE. I did all of this over 5 years of a growing specialty inventory business. What a waste of time and effort!
If I had access to Versaccounts at the start, the right choice would be to build it in at the beginning. I can't say how hard it is to move into an ERP while your in a growth phase. It's a major distraction while your trying to manage growth. The sad thing is that I was spending the same amount of cash on multiple QB files and add on AP's that I now spend on Versaccounts.
A growing Canadian export market drove our business into doing business in two countries with two currencies. We had to house this activity into two legal entities and then a holding company. I could never have scaled this up on single entity based software. The big Oracle or Microsoft products were still too expensive. Finding Versaccount saved me from some serious obstacles. What I'm experiencing is a robust ERP that allows me to operate in multi everything from: inventory locations, currencies, entities, sales tax reporting, user levels. All of it cloud based with no server or IT issues. It's really amazing to me that I can run a quarterly income statement for 3 entities in two currencies and countries on my iPAD while traveling anywhere in the world with just my safari browser. The reports all rollup into one segment on one tab, and consolidated into my home currency. Getting current, accurate income and balance sheet information gives me the confidence and ability to guide a quickly growing business.
The Versaccounts team worked with my team and helped me migrate an operating multi location, currency, and entity business into Versaccounts in a short 3 months in the middle of the business year. I can tell you - it's no small task and should not be attempted lightly. The fact that we made it through the migration is a testament to how seriously Versacounts is took our business.
Now that we are through the change, I'm back to working on helping growing customers and forming new supplier relationships instead of spending my time fixing things on a underpowered accounting system.
---
Easy navigation from on process to another, have been able to complete most tasks on this software alone.
---
Global view for our local and global branches. It is simply the only low cost replacement for SAP, once your company outgrows quickbooks or other similar software. Not everything should be fixed for all users but should be customized to meet ones needs. That's the best benefit l get from Versaccounts.
---
Vergleiche die Gesamtbewertung mit Alternativen
Mit Alternativen vergleichen
Vergleiche Nutzerempfehlungen mit Alternativen
Mit Alternativen vergleichen
VersAccounts Preis
VersAccounts Preis
Beginnt ab
1.800,00 $/Jahr
Preis-Leistungs-Verhältnis
Vergleiche das Preis-Leistungs-Verhältnis mit Alternativen
Mit Alternativen vergleichen
VersAccounts Funktionen
VersAccounts Funktionen
Abrechnung & Rechnungsstellung
Anpassbare Berichterstellung
Automatische Benachrichtigungen
Berichterstattung und Statistik
Integration in die Buchhaltung
Vergleiche Funktionen mit Alternativen
Mit Alternativen vergleichen
Kategorien
VersAccounts Häufig gestellte Fragen
VersAccounts Häufig gestellte Fragen
Weiter unter folgen häufig gestellte Fragen über VersAccounts.
F. Welche Preispläne bietet VersAccounts an?
VersAccounts bietet folgende Kostenpläne an:
Beginnt ab: 1.800,00 $/Jahr
Preismodell: Abonnement
Gratis Testen: Verfügbar
F. Was sind die Hauptfunktionen von VersAccounts?
Wir haben keine Informationen über die Funktionen von VersAccounts
F. Wer sind die typischen Nutzer von VersAccounts?
VersAccounts hat die folgenden typischen Kunden:
Kleine Unternehmen, Mittlere Unternehmen
F: Welche Sprachen werden von VersAccounts unterstützt?
VersAccounts unterstützt die folgenden Sprachen:
Englisch
F. Welche Preispläne bietet VersAccounts an?
VersAccounts hat folgende Preismodelle:
Abonnement
F. Unterstützt VersAccounts mobile Geräte?
Wir haben keine Informationen darüber, welche Geräte VersAccounts unterstützt
F. Mit welchen anderen Applikationen integriert VersAccounts?
VersAccounts kann in folgende Anwendungen integriert werden:
Authorize.net, Avalara, Magento Commerce, PayPal, Salesforce Sales Cloud, Shipwire, Shopify, Stamps.com, Wagepoint, X-Cart
F. Welche Varianten der Kundenbetreuung bietet VersAccounts an?
VersAccounts bietet folgende Optionen für Kundensupport:
Online-Support, Telefon-Support, Wissensdatenbank, Video-Anleitungen