DBxtra Übersicht
Was ist DBxtra?
DBxtra ist eine Ad-hoc-Berichterstattungs- und Business-Intelligence-Lösung, mit der Unternehmen nutzerdefinierte Berichte zu Geschäftsmetriken entwerfen und bereitstellen können. Sie bietet Funktionen wie einen Berichts- und Dashboard-Designer, die Bereitstellung von Online-Berichten, einen Berichtsplaner und einen Excel-Berichterstattungsdienst. Mit DBxtra können auch technisch nicht versierte Nutzer*innen interaktive Business-Intelligence-Berichte und Dashboards erstellen und im Internet bereitstellen.
Mit dem Berichts- und Dashboard-Designer können Unternehmen über eine Drag-and-Drop-Schnittstelle Abfragen, Dashboards, Diagramme, Berichte, Pivot-Tabellen, Datenraster und mehr entwerfen und erstellen. Berichte können komplett angepasst werden – mit vollständiger Design- und Layoutkontrolle und der Möglichkeit, Bilder, Rich-Text-Felder, Formen und mehr einzufügen. BDxtra kann über ODBC oder OLEDB mit einer Reihe von Datenquellen verbunden werden, darunter Microsoft Dynamics, QuickBooks, Google Analytics usw., um Zugriff auf Daten und Datenbankobjekte zu erhalten.
BDxtra erleichtert die Bereitstellung von Webberichten über die Plattform oder extern über Webbrowser, Ausdrucke, E-Mails und mehr. Mit dem Schedule Server können Nutzer*innen die Zustellung von Berichten an Teammitglieder oder externe Kontakte per E-Mail automatisieren. Außerdem bietet der Schedule Server ein Kalendertool zur Zustellungsplanung von einmaligen oder wiederkehrenden Berichten.
DBxtra Übersicht
Kosten
Preisoptionen
Preis-Leistungs-Verhältnis
---
DBxtra Funktionen
Märkte
Vereinigte Staaten von Amerika, Kanada, Vereinigtes Königreich, Australien, China
und 5 weitere
, Indien, Japan, Deutschland, Brasilien, Mexiko
Unterstützte Sprachen
Englisch
Medien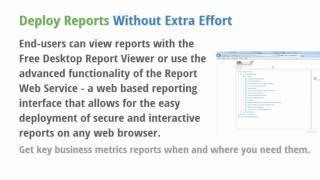 DBxtra Bewertungen
DBxtra Bewertungen
Preis-Leistungs-Verhältnis
5
92%
haben diese Anwendung empfohlen
Have been using it for 5 years, and now purchased another licence again for a new system.
Features we use:
Designer on server=yes
Designer by users =no
Data grids=yes
Pivot grids=yes
Reports (ie using designer)=yes
Scheduled server=once
Dashboard=no
It doesn't do _everything_ but in terms of basic data grid, reports, pivot it's very good. This is because it's built on DevExpress report designer which is as solid reporting tool.
Essentially the core requirements for reporting, ie user-based variables, parameter customisation, user group security, good web based reporting interface are very good.
It is excellent value for money when compared to other reporting tools on the market, which can easily span into the $10k upwards.
For me, the primary reason is the ease of use for creating and deploying reports. Once I have my SQL query created, just paste it into the designer, save the report, set permissions and you're done. For simple reports I can create them in 5-10 minutes, so that's extremely helpful when managmenet is on your tail to get something sorted. :-)
---
Pros:
Inexpensive
Powerful and feature rich
Web deployment capability
Tech support
Cons:
Memory and processing hog. Make sure you have a powerful computer when developing or it will crash far too often.
Doesn't have many bugs but the ones it does are very annoying and impede the use of some features
Very slow to fix bugs
Poor documentation (really poor - you have to contact technical support to learn how to do anything sophisticated)
Last release was extremely poorly conceived, delivered, and poorly communicated. They eliminated some good features and the upgrade wreaked havoc on our installation. We had to downgrade (which is not easy) and rebuild everything. Consequently we are very gun shy about upgrading and are still waiting months later for them to repair the damage form this release.
Examples:
The parameters window no longer displays by default
The output display is limited a window that is too small for some of our wider reports so now there are 2 sets of scroll bars
The moved the function buttons from top right to top left so our logo is crowded between the buttons and the report and looks terrible.
Product management needs a serious overhaul. Both because of the above bumbling and a number of features in the UI that are just plain bad design and need to be removed or fixed. For example:
Displaying the report parameters in a cryptic string in the report header without the option to hide them. Users don't need to see this and if you have a lot of parameters the result is a very long string which detracts from the report aesthetics.
You cannot have report parameters that are strings with commas, such as a company name as it does not work. You have to work around it in a non-elegant way to get it to work. This bug has been outstanding for more than a year. There is a similar problem with strings that contain single quotes (given that this is a SQL based report system you'd think the programmers would have had a clue about this).
If you customize the display of parameters in the report (so you don't get the non-user-friendly cryptic string) every time you edit the report your customizations are overwritten with that ridiculous string. You have to save your customization in a hidden field and copy and paste it back every time.
Note: All of the above has already been communicated to DBXtra. We are still awaiting a resolution.
---
I see the Features Checklist saying that DBxtra supports OLAP. This is simply not true. You will not find any mention of OLAP support on DBxtra website or documentation besides this news article dating back to 2008: http://www.dbxtra.com/blog/?p=103
DBxtra can't use SSAS or similar OLAP tools as a data source. The built in table pivoting doesn't have multidimensional data processing functionality.
So far I'm having pretty rough experience with DBxtra. After working with it for a month I'm running into numerous bugs and minor annoyances: slow initial load time, various UI elements not working. Customer Support response is very quick, but they can't really solve any of my issues or provide estimates for resolution. Well I guess it's what you get for this kind of price.
---
We did a substantial amount of market testing before deciding on which product to settle on.
We needed to improve the quality of our reports, make data easier to understand for our end users and reduce the development time associated with report generation.
We evaluated a number of other competitors. We found the service to be reasonable with most of the companies we evaluated. In some products, we found very advanced features, but the development cycle would require lots of coding. We were looking for a solution that would steamline the report creation process and offer a powerful set of tools for visualising and presenting data back.
After we became disillusioned with the 4th product we tried, we moved over to testing DBxtra.
With DBxtra we had created and deployed our first report in less than 3 days (compared to over 7 with the other products)
DBxtra works like this: You build an underlying query using a visual query builder - from this you effectively have 4 separate methods of manipulating the data:
- Data Grids
- Pivot Tables
- Reports
- Dashboards
Go the website to see these.
But why am I actually writing this review?
During our testing of this product, the service and support we received was literally the best we've experienced. The friendly and experienced team at DBxtra never made us wait long for an answer to a support email and on a number of occasions they screen shared with us to provide advice. In about 5 situations, our requirements needed code changes in asp pages. Each time, they went away, researched our problem and came back and implemented it for us.
As part of our purchase we agreed on some customization work that needed to be done at short notice. We were a little worried about whether the quality of the service would drop off after we paid. When our customisation was not completed we sent an email to ask what was going on at 23:00 - only to get an instant reply to say that it had taken longer than planned due to a major storm, but they were staying with it until it was done. It was completed at around 02:00 - and was done so because the DBxtra team understood we needed it for showcase to a client the next morning and they delivered on their promise.
That's all there is to say really.
---
We have used DBXTRA for over 5 years with a national user base accessing through IIS. Our customers love the simplicity of the UI, the rich features and we love the reliability and support.
We highly recommend this product!
---
Vergleiche die Gesamtbewertung mit Alternativen
Mit Alternativen vergleichen
Vergleiche Nutzerempfehlungen mit Alternativen
Mit Alternativen vergleichen
DBxtra Preis
DBxtra Preis
Preis-Leistungs-Verhältnis
Vergleiche das Preis-Leistungs-Verhältnis mit Alternativen
Mit Alternativen vergleichen
DBxtra Funktionen
DBxtra Funktionen
Anpassbare Berichterstellung
Berichterstattung und Statistik
Werkzeuge zur Zusammenarbeit
Vergleiche Funktionen mit Alternativen
Mit Alternativen vergleichen
Kategorien
Kategorien
DBxtra Häufig gestellte Fragen
DBxtra Häufig gestellte Fragen
Weiter unter folgen häufig gestellte Fragen über DBxtra.
F. Welche Preispläne bietet DBxtra an?
DBxtra bietet folgende Kostenpläne an:
Beginnt ab: 3.700,00 $
Preismodell: Einmalige Lizenz
Gratis Testen: Verfügbar
F. Was sind die Hauptfunktionen von DBxtra?
Wir haben keine Informationen über die Funktionen von DBxtra
F. Wer sind die typischen Nutzer von DBxtra?
DBxtra hat die folgenden typischen Kunden:
Kleine Unternehmen, Mittlere Unternehmen
F: Welche Sprachen werden von DBxtra unterstützt?
DBxtra unterstützt die folgenden Sprachen:
Englisch
F. Unterstützt DBxtra mobile Geräte?
Wir haben keine Informationen darüber, welche Geräte DBxtra unterstützt
F. Mit welchen anderen Applikationen integriert DBxtra?
DBxtra kann in folgende Anwendungen integriert werden:
Acumatica Cloud ERP, Mailchimp, Marketo Engage, SAP Concur, Salesforce Marketing Cloud, SugarCRM, SurveyMonkey, Twitter, Wordpress, Xero
F. Welche Varianten der Kundenbetreuung bietet DBxtra an?
DBxtra bietet folgende Optionen für Kundensupport:
Wissensdatenbank, Online-Support, Telefon-Support