Clockify Übersicht
Was ist Clockify?
Clockify ist ein kostenloses Tool zur Zeiterfassung für Agenturen und Freiberufler mit Funktionen zur Zeiterfassung, Berichterstattung, zum Projekt- und Teammanagement. Da Clockify eine unbegrenzte Teamgröße unterstützt, können Nutzer beliebig viele Nutzer hinzufügen.
Mit der Zeiterfassungsfunktion können Nutzer Erinnerungen nachverfolgen, Zeiteinträge löschen und Zeit manuell hinzufügen. Mit der Berichterstattungstechnologie können Nutzer zusammenfassende, detaillierte oder wöchentliche Berichte erstellen. Mit Projekt- und Teammanagementtools können Nutzer auch Aufgaben, Zeitschätzungen und Mitgliederprofile bequem verwalten.
Clockify Übersicht
Kosten
Preisoptionen
Preis-Leistungs-Verhältnis
---
Clockify Funktionen
Märkte
Vereinigte Staaten von Amerika, Kanada, Vereinigtes Königreich, Australien, China
und 5 weitere
, Indien, Japan, Deutschland, Brasilien, Mexiko
Unterstützte Sprachen
Englisch
Medien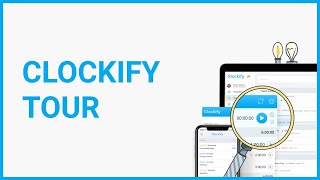 Clockify Bewertungen
Clockify Bewertungen
Preis-Leistungs-Verhältnis
4,8
97%
haben diese Anwendung empfohlen
Overall, Clockify has helped streamline my small business. I no longer have to worry about keeping timestamps in my head while picking up the phone, or jotting a quick note down that I'll forget what it's in reference to later. Clockify has made me more efficient, and more accurate, two things that are wonderfully customer-centric.
---
I previously used Toggl, which I like just fine, but was a bit limited on the free version, and I didn't like the interface that much. I tried Clockify just to see how it would go, and so far I like it and am sticking with it for the near future.
---
Overall, Clockify has enabled me to distribute my time more effectively and I will recommend it to others.
---
This software resolves the time tracking issues that I've had in the past when it was just me. I would find myself putting way more time on one project than the client paid for, which put other projects on the backburner. I needed a way to monitor and control this so I can spend the right amount of time on each client project.
---
Deployment was a breeze, documentation on their website is excellent, and customer service has been good. For example, a few team members experienced a bug at one point, and after we sent them the details, they offered workarounds and got it fixed in a reasonable timeframe. As the administrator, it requires very little time from me to keep it running and get new team members trained, which is fantastic.
---
Vergleiche die Gesamtbewertung mit Alternativen
Mit Alternativen vergleichen
Vergleiche Nutzerempfehlungen mit Alternativen
Mit Alternativen vergleichen
Clockify Preis
Clockify Preis
Preis-Leistungs-Verhältnis
Vergleiche das Preis-Leistungs-Verhältnis mit Alternativen
Mit Alternativen vergleichen
Clockify Funktionen
Clockify Funktionen
Automatische Benachrichtigungen
Berichterstattung und Statistik
Werkzeuge zur Zusammenarbeit
Vergleiche Funktionen mit Alternativen
Mit Alternativen vergleichen
Kategorien
Kategorien
Clockify Häufig gestellte Fragen
Clockify Häufig gestellte Fragen
Weiter unter folgen häufig gestellte Fragen über Clockify.
F. Welche Preispläne bietet Clockify an?
Clockify bietet folgende Kostenpläne an:
Preismodell: Kostenlos
Gratis Testen: Verfügbar
F. Was sind die Hauptfunktionen von Clockify?
Wir haben keine Informationen über die Funktionen von Clockify
F. Wer sind die typischen Nutzer von Clockify?
Clockify hat die folgenden typischen Kunden:
Kleine Unternehmen, Großunternehmen, Öffentliche Verwaltung, Non-Profit, Freie Mitarbeiter, Mittlere Unternehmen
F: Welche Sprachen werden von Clockify unterstützt?
Clockify unterstützt die folgenden Sprachen:
Englisch
F. Unterstützt Clockify mobile Geräte?
Clockify unterstützt die folgenden Geräte:
Android, iPhone, iPad
F. Mit welchen anderen Applikationen integriert Clockify?
Clockify kann in folgende Anwendungen integriert werden:
Axosoft, Basecamp, Capsule, ClickUp, Clubhouse, Freedcamp, Husky Marketing Planner, Infinity, Todoist
F. Welche Varianten der Kundenbetreuung bietet Clockify an?
Clockify bietet folgende Optionen für Kundensupport:
Online-Support, Häufig gestellte Fragen, Wissensdatenbank, Video-Anleitungen, Forum, Telefon-Support