Synchroteam Übersicht
Was ist Synchroteam?
Verwalte mobile Mitarbeiter effizient, vereinfache Geschäftsprozesse und optimiere Kosten.
Synchroteam bietet Tracking, Planung, Versand, Kalender, Job-Management, Reporting, CRM, Invetarmanagement, Time-Tracking, Rechnungsstellung und Google Maps. Cloudbasierte SaaS mit mobilen Apps für iOS und Android. Integration mit Quickbooks, Xero und Zoho CRM.
Die Außendienstmanagement (FSM)/Personaleinsatzplanung-Software eignet sich hervorragend für KMU, mittelständische Unternehmen und Unternehmen in den Bereichen HLK, Elektrik, Inspektion, Schädlingsbekämpfung, Sanitär, Wartung, Terminplanung, Sicherheit und anderen Branchen.
Erstelle deine kostenlose Testversion in weniger als einer Minute und organisiere dich
mit dieser kostengünstigen, leistungsstarken und anpassbaren Lösung für den Außendienst. Live-Support.
Synchroteam Übersicht
Kosten
Preisoptionen
Preis-Leistungs-Verhältnis
---
Synchroteam Funktionen
Märkte
Vereinigte Staaten von Amerika, Kanada, Vereinigtes Königreich, Australien, China
und 5 weitere
, Indien, Japan, Deutschland, Brasilien, Mexiko
Unterstützte Sprachen
Chinesisch (traditionell), Deutsch, Englisch, Französisch, Italienisch
und 8 weitere
, Niederländisch, Polnisch, Portugiesisch, Russisch, Schwedisch, Spanisch, Tschechisch, Türkisch
Medien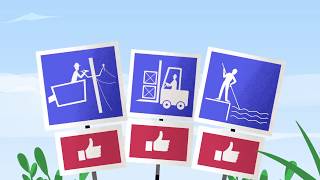 Synchroteam Bewertungen
Synchroteam Bewertungen
Preis-Leistungs-Verhältnis
4,3
94%
haben diese Anwendung empfohlen
I'd been running as an independent IT consultant for a few years. All of a sudden I won two big contracts that made hiring an employee and getting some sort of job scheduling/tracking system a priority.
I demoed pretty well every offering. Synchroteam stood out for a couple of key reasons. The biggest for me was their inventory system. Although it is still in its early days and lacking a few features that I hope are on the way, it's a good inventory system that gives me the ability to transfer stock from the 'warehouse' to our cars and know who has what.
There were other systems out there with inventory but a lot of them were overkill for me and most of them were overly expensive. Synchroteam's price is very reasonable and priced by the tech (free admin account) so it was affordable for starting up.
The way it is setup is logical and once you get used to it (It does look different than most of the other offerings, kind of old school) it is pretty intuitive. Creating clients, jobs and sites is straightforward and the details page of each is well laid out for easy digestion of the information.
The mobile app is good, better than most of the others. It has that same old school look as the website (which isn't a bad thing). The display of information and the interaction with that info is well presented. Tapping phone numbers calls the client, tapping the address give you directions, tapping the client gives your more details via the website, etc. When you create custom fields on your jobs (you should) they get their own screen in the mobile app which is a great way to present key information (Serial #s, Model #'s, etc). You can also create jobs in the mobile app which is handy for me as I dispatch on the go.
The biggest shortcoming I can see, although I don't really use it, is the reporting. I'm not really sure what it reports. I've mucked around with it but haven't gotten any valuable information out.
There are some things I would like to do that I can't and some other things that I hope will evolve into something better but I think these guys know what they are doing. I see the product has had updates since I joined a little over a month ago and looking at past changes I can see that they have been continually improving and adding to the system. I've had good interactions with the help desk (although not always getting the answers I would like) and my rep has been attentive but not too attentive.
Demo the software, you'll like it.
---
Scheduling, dispatching, time tracking. Would like to see the GPS and invoicing modules improved. See cons
---
Price was the winning factor to why I started using this product. The sales team did a good job of presenting the potential of the product but a poor job of explaining the shortcomings that would become discovered in my first month of using it. Overall I'm not terribly happy with the investment and I won't be using it long-term. Unsure what I will move to going forward.
---
We helped Future Connections select, implement & migrate to ST from an outdated FMS. It was an easy switch, because FC's processes are well supported by ST. The planning is now more efficient and the efficiency of the field team has also increased significantly. The capability to monitor progress has improved, as has the ability to support last minute changes
---
Vergleiche die Gesamtbewertung mit Alternativen
Mit Alternativen vergleichen
Vergleiche Nutzerempfehlungen mit Alternativen
Mit Alternativen vergleichen
Synchroteam Preis
Vergleiche das Preis-Leistungs-Verhältnis mit Alternativen
Mit Alternativen vergleichen
Synchroteam Funktionen
Synchroteam Funktionen
Abrechnung & Rechnungsstellung
Anpassbare Berichterstellung
Automatische Benachrichtigungen
Berichterstattung und Statistik
Echtzeit-Berichterstattung
Vergleiche Funktionen mit Alternativen
Mit Alternativen vergleichen
Kategorien
Synchroteam Häufig gestellte Fragen
Synchroteam Häufig gestellte Fragen
Weiter unter folgen häufig gestellte Fragen über Synchroteam.
F. Welche Preispläne bietet Synchroteam an?
Synchroteam bietet folgende Kostenpläne an:
Beginnt ab: 22,00 $/Monat
Preismodell: Abonnement
Gratis Testen: Verfügbar
F. Was sind die Hauptfunktionen von Synchroteam?
Wir haben keine Informationen über die Funktionen von Synchroteam
F. Wer sind die typischen Nutzer von Synchroteam?
Synchroteam hat die folgenden typischen Kunden:
Kleine Unternehmen, Großunternehmen, Mittlere Unternehmen
F: Welche Sprachen werden von Synchroteam unterstützt?
Synchroteam unterstützt die folgenden Sprachen:
Chinesisch (traditionell), Deutsch, Englisch, Französisch, Italienisch, Niederländisch, Polnisch, Portugiesisch, Russisch, Schwedisch, Spanisch, Tschechisch, Türkisch
F. Unterstützt Synchroteam mobile Geräte?
Synchroteam unterstützt die folgenden Geräte:
Android, iPhone, iPad
F. Mit welchen anderen Applikationen integriert Synchroteam?
Synchroteam kann in folgende Anwendungen integriert werden:
Google Calendar, Microsoft Excel, Microsoft Outlook, QuickBooks Online, Sage Business Cloud Accounting, Stripe, Xero, Xero, Zoho CRM
F. Welche Varianten der Kundenbetreuung bietet Synchroteam an?
Synchroteam bietet folgende Optionen für Kundensupport:
Häufig gestellte Fragen, Wissensdatenbank, Online-Support, Telefon-Support, Video-Anleitungen