amoCRM Übersicht
Was ist amoCRM?
amoCRM ist eine intuitive Vertriebs- und Leadmanagement-Lösung für KMUs. Im Gegensatz zu anderen Tools kann es in wenigen Minuten eingerichtet werden. amoCRM ist benutzerzentriert, mit einem Schwerpunkt auf interaktivem Design und Anpassung für eine mühelose Verkaufsautomatisierung. Benutzer können per Drag-and-Drop zu verschiedenen Status führen, benutzerdefinierte Felder im Handumdrehen erstellen und verhaltensgesteuerte Aktionen mit nur wenigen Klicks einrichten.
Als Administrator können Benutzer schnell neue Benutzer zu amoCRM hinzufügen und ihre Benutzerverwaltungseinstellungen und Berechtigungen einfach ändern, so dass die Daten immer sicher bleiben. Verwende die iPhone oder Android App, um unterwegs mit Notizen und Aufgaben Schritt zu halten. amoCRM lässt sich auch mit anderen großartigen Diensten wie MailChimp, Mandrill, Wufoo, Zendesk, Dropbox, Zapier und anderen integrieren, um den Benutzer-Workflow zu verbessern. amoCRM unterstützt Kontakt- und Lead-Management sowie Aufgaben und Benachrichtigungen und 2-Wege-E-Mail-Synchronisation. Weitere Funktionen von amoCRM sind ein Dashboard und KPIs, digitale Pipeline und Vertriebsanalysen.
amoCRM Übersicht
Kosten
Preisoptionen
Preis-Leistungs-Verhältnis
---
amoCRM Funktionen
Märkte
Vereinigte Staaten von Amerika, Kanada, Vereinigtes Königreich, Australien, China
und 5 weitere
, Indien, Japan, Deutschland, Brasilien, Mexiko
Unterstützte Sprachen
Englisch, Russisch, Spanisch
Media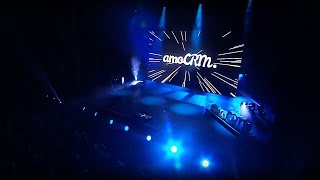 amoCRM Bewertungen
amoCRM Bewertungen
Preis-Leistungs-Verhältnis
4,5
91%
haben diese Anwendung empfohlen
Price is reasonable for all feature in get and customer service is exceptional.
---
I at long last have the required device to give my client care as I wanted. I can at last right the long procedures into explicit advances and see where the precise improvement is required for the outcomes we go for. It has a reasonable arrangement and simple of access for all workers to team up on. This advantages the understudy correspondence and makes an authoritative undertaking a happy task and euphoric as opposed to depleting and confused.
---
You need to manage it full time. It doesnt refresh well, emails are delayed. Basically, it's not flexible enough.
---
I finally have the needed tool to give my customer service as I desired. I can finally correct the long processes into specific steps and see where the exact improvement is needed for the results we aim for.
It helps to have a clear plan and easy of access for all employees to collaborate on. This benefits the intern communication and makes an administrative task a lighthearted assignment and joyful instead of draining and complicated.
---
Our office has five people. The entire customer base was carried out in Excel. That is about 1,500 clients.
database has been stolen several times by managers , who then opened their businesses.
Theft was impossible to track down. After implementing the amoCRM system , we have set up access to the customer base for managers.
And it became possible to ensure the safety of the most valuable - the customer base.
After the implementation of amoCRM , we have begun to see how many calls , tasks , emails processes manager.
And then we fired 2 manager. Since they only create the appearance of work.
It all began to count. Connect IP telephony and listened to the conversations of managers.
We implemented service quality and could boost sales by controlling the work.
Previously, there was chaos - once called the client. Then promised to call back , but did not call back.
Now in the amoCRM system we could see , whether the task on to customers , what is the result of conversation and other important performance.
Why amoCRM? This system is self-embeddable. Initially I bought one account and gave it to the manager.
He understood the system and 2 weeks after he could not work without the amoCRM. It is very convenient. Safely. And most importantly - easy!
The world will never be the same again . After using amoCRM - we will never go back to Excel.
---
Vergleiche die Gesamtbewertung mit Alternativen
Mit Alternativen vergleichen
Vergleiche Nutzerempfehlungen mit Alternativen
Mit Alternativen vergleichen
amoCRM Preis
amoCRM Preis
Preis-Leistungs-Verhältnis
Vergleiche das Preis-Leistungs-Verhältnis mit Alternativen
Mit Alternativen vergleichen
amoCRM Funktionen
amoCRM Funktionen
Anpassbare Berichterstellung
Automatische Benachrichtigungen
Benutzerdefinierte Felder
Berichterstattung und Statistik
Kundenspezifisches Branding
Vergleiche Funktionen mit Alternativen
Mit Alternativen vergleichen
Kategorien
amoCRM Häufig gestellte Fragen
amoCRM Häufig gestellte Fragen
Weiter unter folgen häufig gestellte Fragen über amoCRM.
F. Welche Preispläne bietet amoCRM an?
amoCRM bietet folgende Kostenpläne an:
Beginnt ab: 15,00 $/Monat
Preismodell: Abonnement
Gratis Testen: Verfügbar
F. Was sind die Hauptfunktionen von amoCRM?
Wir haben keine Informationen über die Funktionen von amoCRM
F. Wer sind die typischen Nutzer von amoCRM?
amoCRM hat die folgenden typischen Kunden:
Kleine Unternehmen, Großunternehmen, Non-Profit, Freie Mitarbeiter, Mittlere Unternehmen
F: Welche Sprachen werden von amoCRM unterstützt?
amoCRM unterstützt die folgenden Sprachen:
Englisch, Russisch, Spanisch
F. Welche Preispläne bietet amoCRM an?
amoCRM hat folgende Preismodelle:
Abonnement
F. Unterstützt amoCRM mobile Geräte?
amoCRM unterstützt die folgenden Geräte:
Android, iPhone
F. Mit welchen anderen Applikationen integriert amoCRM?
amoCRM kann in folgende Anwendungen integriert werden:
Akita, JivoChat, Landingi, LiveChat, Mailchimp, Ringostat, SendPulse, Tidio, Workato, Zendesk
F. Welche Varianten der Kundenbetreuung bietet amoCRM an?
amoCRM bietet folgende Optionen für Kundensupport:
Online-Support, Telefon-Support, Video-Anleitungen, Wissensdatenbank